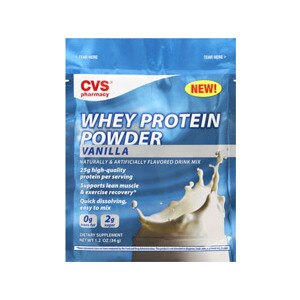 Was very happy and excited to find that CVS has a
whey protein powder
. I bought a bag of the vanilla. It has a nice flavor even without adding anything to it. Of course you know I love to add fruit to my protein powder. My favorite way to make a protein shake was to mix a handful of blueberries, a 1/2 cup of mango, half of a frozen banana, a half cup of Blue Diamond Almond/Coconut Milk and either a whole scoop or half scoop of powder. I tried a packet of the
chocolate CVS Protein Powder
too. It was just as good as the vanilla. Easy to mix and dissolves easily. There's also a Cookies and Cream flavor. I would have tried that too, but they didn't have a sample packet. The best thing about this protein powder is that it has 25 g of protein and 140 calories per scoop. So, I can use a half a scoop and still get a nice amount of protein.
My next favorite thing is something I mentioned above. The
Blue Diamond Almond Breeze Almond/Coconut Milk
. Delicious and low in calories. Only 60 calories per cup. Love adding it to my protein shakes and oatmeal. Really great product.
My last favorite thing is something I found while shopping in Walgreen's.
Good Food Made Simple Frozen Oatmeal
. I was intrigued and decided to buy it. Very happy with my purchase. It's easy to make and tastes great. Didn't have to add anything to it. Tastes great straight out of the microwave, but of course I added my two faves from above to make it a great post-workout meal. I tried the Brown Sugar flavor, but it also comes in original, fruit and berries, and Vermont Maple.